Shifting Financial Flows to Invest in Low Carbon Development
Shifting Financial Flows to Invest in Low Carbon Development
Since May 2018, SEforALL is working together with the Climate Action Network (CAN), Third Generation Environmentalism (E3G) and Mission 2020 (M2020) on "Shifting financial Flows to invest in Low-carbon Development" in South-East Asia.
This project aims to support the shift of financial flows to low carbon development, engaging stakeholders in Vietnam, the Philippines and Indonesia. National engagement seeks to support the catalyzation of national policy initiatives to shift finance away from fossil fuels and into low carbon development.
Political economy mappings will be undertaken and high-level stakeholders will be convened to generate national policy initiative recommendations, in collaboration with in-country stakeholders. National experiences will be reflected at the international level to advise ongoing changes in international financial institutions (IFIs) to better support low carbon development in the countries they operate in. Outputs will provide guidance to the public and private sector to support accelerated investment in low carbon development.
The project started in May 2018 and will run for 16 months.
Project activities
Strategic insights on national engagement through political economy mappings. E3G's Political Economy Mapping Methodology (PEMM) includes extensive desk-based research, testing with local partners and preparation of preliminary drafts for strategy discussions with project partners and stakeholders for Vietnam, the Philippines and Indonesia;
Analysis and ranking of IFIs active in the selected target countries. E3G has developed a ranking methodology to assess Multilateral Development Banks' alignment with the Paris Agreement, which has been tested with a wider range of stakeholders, including government officials and experts from Multilateral Development Banks;
Heat Maps on sustainable energy priorities to understand where there is potential to accelerate progress towards a low carbon transition in the project countries, in relation to other countries and key industries and sectors.
Outreach to national and/or local governments, international and national level financial institutions involved in financing the low carbon resilient transition, as well as project developers, key investors, intermediaries, civil society, and national partners with a view to identifying the main actors of the investment and low carbon development in the prioritized countries;
Continuous dialogue with national partners. A national lead partner in each of the project countries will facilitate regular discussions amongst a group of key stakeholders, formed around a shared vision and across different sectors to address recommendations and devise plans to catalyze the investment environment and policy initiatives in each context.
High level convening with decision-makers and key stakeholders, including government officials, CEOs and other relevant stakeholders engaged in energy and investment sectors, to ensure integration of understanding of challenges faced by project countries in the operationalization of the policy discourse, and of the possible roadblocks when turning commitments into action;
Reports on findings and recommendations. Recommendations will be turned into digestible briefings and tailored communication material around investment shift to low-carbon development in the project countries.
Where possible, link decision-makers with key national and international stakeholders to take forward a prioritized policy initiative. It is necessary to understand the complexities of implementation of each specific policy, and how to find the best match to ensure effective "mis-en-oeuvre";
Profiling priority country work at the international level in co-organizing side events with project country governments at international forums to present their experience of driving financial flows to low carbon development.
A key feature of this project is that there is no presupposition about what the recommendations or policy initiatives may be; instead these will be defined through deep cooperation and detailed discussions with the relevant decision-makers and sectors at the national level. Recommendations could for instance pertain to the long-term strategy development process of a specific country, national planning, or creating an enhanced enabling environment for economic incentives, etc. but the range of options has been left very open so that a number of suited, bespoke options can be considered.
This project is part of the International Climate Initiative (IKI). The Federal Ministry for the Environment, Nature Conservation and Nuclear Safety (BMU) supports this initiative on the basis of a decision adopted by the German Bundestag.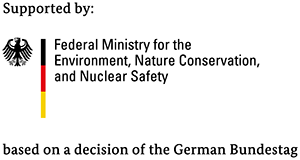 More information on the International Climate Initiative: international-climate-initiative.com/en